10 QUESTIONS TO

GUNNAR HEILMANN
The Light Painting Interview series continues. I am particularly pleased that Gunnar Heilmann was willing to answer my questions. For many years we have been going on very exciting excursions together to very impressive locations. Again and again he surprises me with his fresh ideas and his skills. I will never forget how he painted a full-size horse freehand in front of the tram in Görlitz.
Together we organised the LIGHT UP BERLIN in 2019. I hope we can organise the next LIGHT UP quite soon.
Gunnar answered the questions in English. The German translation is mine.
---
PLEASE INTRODUCE YOURSELF SHORTLY. NAME, AGE, WHERE YOU FROM ETC.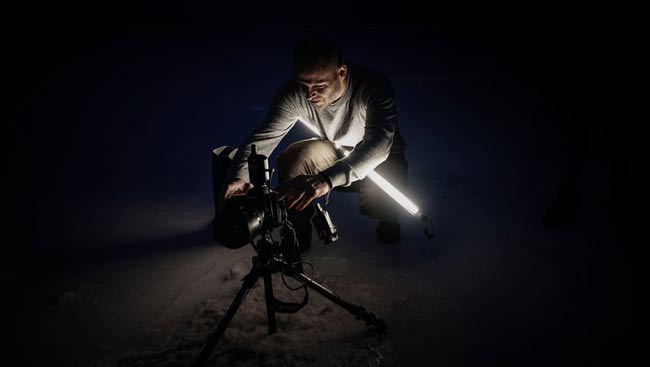 Well, my name is Gunnar Heilmann, and I am 49 years old. Man, that sounds really old. Living in Berlin and calling the world home, I have had the luck to got to travel a whole lot over the past years.
---
Q1 HOW AND WHY DID YOU START LIGHTPAINING?
It all started with some very simple sparklers and the mobile phone. My first light paintings go back to 2006. Back then I was not perusing it regularly or with much thought as a technique. In the years 2012-2014, I started to do it more often. The entire story accelerated sometime in 2016 with the Photokina where I met a bunch of Light Painting legends. I got hooked on collaborations as a creative exchange that goes beyond normal photography. It's almost like a dance or discussion. We all want to solve a puzzle together. I do like it when I collaborate with a few LightPainters and models. When no idea is crazy enough the fun starts.
---
Q2 WHAT MEANS LIGHT PAINTING FOR YOU? WHAT IS YOUR MOTIVATION? WHAT DRIVES YOU?
I believe we can use Light Art Photography to engage with people and connect with each other beyond any other form of photography I have experienced. Light Painting can tell stories and for me more important challenge a viewer's curiosity.
---
Q3 WHAT GEAR DOY YOU ALWAYS CARRY WITH YOU?
Depending on where I go and for how long this becomes a very complex decision process. When I first got your document with all these questions it triggered this very video. To answer that question is a bit tricky. Well, there is always a camera and at least one other lens. Then a hand full of flashlights and maybe one or two light tools. That is often the Black Fiber Brush and maybe a Circular Light Blade. When it's possible to drive right into the spot I bring all I can carry to the car. In the end, I often use only a hand full of tools because the night is over way too fast.
---
Q4 WHAT'S YOUR MOST MEMORABLE LIGHT PAINTING EXPERIENCE, EVENT OR MOMENT? TELL US A LITTLE BIT ABOUT IT
Well, we know each other for so many years and you probably heard a lot of stories about my travels. Yet the most important and memorable Light Painting experience remains the one I was light painting the least. When you and I organized the LightUp Berlin in 2019. Light Up Berlin 2019 was our first light painting festival in Berlin in a former distillery in Berlin (Monopol). It was so impressive to see that 200+ enthusiasts from 20+ countries followed our call to Berlin. All the Photographers, artists, body painters, and Light Painter enthusiasts immersed in creative collaborations, workshops, and performances. Here I was part of the organization and was true for most of my work. During the entire event, I was lucky to get one cool Light Painting shot in a collaboration with Pala Teth and Phil Fisher in the workshop of the Marana crew. So I do not really like to be in front of the camera one of the best moments was actually when I was. At the end of the last Light Up night when I was closing all the rooms and bunkers I found a whole bunch of crazy 'Lightpainters' in one of the bunkers still playing around. To finish off the night there was "One more shot" and that meant I got a portrait created by a hand full of internationally known Light Painters like Denis Smith (AUS), Rob Turney (AUS), Pala Teth (BE), Mass (FR), Stabeu Light (FR), Deliz (FR), Mart Barras (UK), Tom Hill (UK) and a few more. That is nothing that you can plan for or ask as a favor this just happened and made the best finish of an event one can ask for. I still get shivers thinking about it. Sooo cool!
Every Light Painting effect was created by a different LightPainter in a single exposure just as we love it. Can you guess who did what? I surely don't remember all of them but some are just signature moves one can recognize.
---
Q5 WHO OR WHAT INSPIRES YOU?
Nature and its organic infinite and diverse shapes. Most of my photography is either done outdoors and throughout the world or in a studio where I shoot portraits. Traveling poses logistics questions regarding tools I can bring and accessibility conditions, a lot of planning ahead. Once I find myself at the location and in the process, I begin to play with the given elements, the tools I have in hand, and the features of the landscape. Though planned ahead and engineered, the mystery awaits whilst I am drawing or lighting a subject, not knowing what impression it will bring. The same process applies to portraits, as they transform into landscapes using the same techniques, yet on another scale. The better I know the person in front of me the better the images turn out. So often I would want to know more about the person better before a shooting. Makes all the difference!
---
Q6 WHAT IS GOING TO BE THE NEXT LIGHT PAINTING TOOL YOU BUILD OR BUY?
Lately, I have not been actively building tools nor planning on doing so. I want to make more time to get more of the techniques that I am using currently as well as the tools I am using. For me, it has become more important to find a way to convey a story or make people think.
---
Q7

WHAT IS YOUR WORKFLOW? DO YOU WORK MORE SPONTAEOUS OR DO YOU PLAN OUT EVERY LITTLE DETAIL OF YOU ART?
---
Q8

DO YOU HAVE CERTAIN CONCEPT, IDEA, PHILOSOPHY OR THEME FOR YOUR LIGHT PAINTINGS?
Q7 & Q8 go nicely together
Over the years I find myself somewhere in the middle unless I only play. Getting inspired and influenced by the environment, subject or moment is certainly the center of all my creative process. Sometimes I save some inspirational photos I see online and then in my mind, I start to combine ideas. These never ever work out the way it's in my head and then something entirely different comes of it. Often different but cooler. Sometimes I also give up because it just does not work and I don't even stress. I never feel obsessive over a concept and I am fine to divert from the idea or drop it entirely. Then I started to love the little imperfections and little hints that this was no Photoshop or AI-generated art. Often there are these little mistakes that make it more interesting. The person who was not present during the shot cannot know the story.
This is a good example. Those who have not been present during the creation of this Light Painting find two models maybe 3. When in reality we had a whole crew hidden in this scene.
---
Q9 DO YOU HAVE 3 LIGHTPAINTERS YOU WOULD LIKE TO / DREAM OF, TO HAVE A COLABORATION WITH?
Yes, I do .. a minimum 3 but hey that's why I loved the LightPainters.com platform with the map. Lucky me I have been Light Painting with many already. All with different styles in all parts of the world.
---
Q10

WHAT ARE YOUR BEST OR MOST FAVOURITE 3 PICTURES?
My favorite technique is the Black Fiber Optic brush as we all know. This is a shot with my neighbor.
---
Visiting Salar de Uyuni in Bolivia.
---
Collaboration during the Meteor Jam in Arizona.
---
Thank you Gunnar for answering my questions. I hope we can have our next trip together very soon.
Finally, an interview during Lightpainters United 2017 in Berlin and a link to a blog on Gunnar's website: https://gunnarheilmann.com/why-i-love-light-painting/
Always good light
Sven