Light Painting with High CRI Led Torches
CRI – what is it? Colour Rendering Index describes the ability of an artificial light source to render colours as naturally as possible. For this, it is necessary that the light source, which in most cases will probably be an LED, can emulate as many spectral colours of sunlight as possible. The CRI of sunlight is 100, and candlelight and some incandescent lamps also achieve this value. All other artificial light sources are below this value. Sodium and mercury vapour lamps are in the range of 20 to 50, fluorescent lamps 70 to 80. Normal white LEDs work with 65 to 80 CRI.
The closer the artificial light source comes to the value of 100, the better the colour rendering. The colours appear natural. In light painting, it is therefore possible to illuminate a scene with very similar colour rendering to daylight. When used with colour filters or with tools such as tubes or blades, such torches usually have no advantages over other LED torches.
---
At what point does one speak of High CRI?
Most manufacturers do not specify the CRI value. They only do so if it is particularly high. Torches with values above 90 are commonly referred to as high CRI. Personally, I would call lamps with a CRI of 95 or higher high CRI. But 90 is already better than 82. For most people, colour rendering does not play a role in the purchase decision. The only things that count are lumens, price, runtime and size/weight. For the light painter, a good focus system and good operability may also be important.
The problem with high CRI torches is that they are usually less bright. The Emisar D4V2 delivers a maximum of 3000 lumens with the SST 20 with 95 CRI, and 4200 or 4300 lumens with the normal SST 20 or Cree XML-Hi. Apart from the LEDs, the torches are identical. So for marketing reasons, most manufacturers will not opt for the High CRI LEDs, they would then have to specify a lower brightness. Another problem is that many High CRI torches have a distinct colour cast, thus defeating the very purpose of natural rendering.
The CRI value should not be confused with the colour temperature. Just because a torch emits warm light at 3000K does not mean it has a high CRI. However, almost all high Cree LEDs are found in the 3000 to 4000K range.
---
Which High CRI torches are currently available?
Most high CRI torches are small torches for your pocket. They usually deliver no more than 300 lumens. These torches are therefore unsuitable for illuminating larger areas. One of the most brutal high CRI torches I have found so far is the Acebeam X80 CRI, not to be confused with the normal X80. This part delivers 4500 lumens with 95 CRI. However, there is one tiny problem with this torch: the list price is a sporty $516. I couldn't find an offer for less than 399€. So I can't report anything about this torch because I don't have it. If you just won the lottery, here is the link to the Acebeam X80 CRI.
There are also other high CRI torches with high output, like the Emisar D18 with incredible 10000 lumens. Here, too, it is essential to make sure that High CRI LEDs are installed, the D18 is available in different versions. However, the D18 CRI is difficult to obtain. Apparently there is hardly any market for these torches, although pretty much every photographer could use High CRI torches with high output. A torch with 10000 lumens replaces the fat battery flash in most cases.
The next lamps that come to mind are the Lume Cubes. According to the manufacturer, these also have 95 CRI. The small cube with 1500 lumens costs about 90€ and shines with constant brightness for about 1.5 hours. Very impressive for the size of approx. 4 x 4 x 4cm. The beam angle is approx. 80°, the light cone is absolutely homogeneous, there is no hotspot. The target group here is clearly photographers. Due to the low weight, you can hang the cubes on almost any drone. Here is a link to Amazon: Lume Cube 2.0
But a cube is not a torch. These cubes cannot be used sensibly with light painting tools. As I wrote above, high CRI lamps bring no advantages to the tools, but no disadvantages either. So in the end I have less baggage if I can use the same torch for illumination and on the tools. And I have also saved money.
So a high CRI torch that is as small and bright as possible would be desirable. And if the light cone is still clean and even, the light painter is happy. So far I have been able to find two torches that meet these needs. One is the Acebeam TK16. This is optionally equipped with 3 Luminous SST-20 High CRI LEDs. There are also versions with Osram and Cree LEDs. These do not have a high CRI value. Because it is operated with a small 16340 battery, this torch is not necessarily the first choice for the Light Painter. It is very small and light, but the short runtime is sometimes annoying during light painting. In addition, you have to take half a railway carriage of the rather exotic spare batteries with you. The runtime at full brightness should hardly be longer than 20 minutes.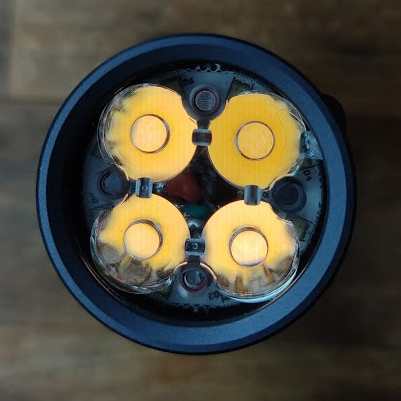 The second torch is the Emisar D4V2. Here, too, you can choose between different LEDs. Equipped with 4 of the above-mentioned SST-20 High CRI, the lamp delivers 3000 lumens in Turbo according to the manufacturer. I measured approx. 2650 lumens. After about 30 seconds, the light is reduced to approx. 1200 lumens. At this point, you almost burn your fingers. 2650 lumens in such a small housing sounds funny at first, but it's nothing for delicate fingers. The 1200 lumens in the High setting are turned down after about 4 minutes. This should be enough for most light painting pictures. If necessary, you can take two of them with you, as they are not that bulky. Two battery tubes are included. One long one for 18650 batteries and one short one for 18350 or 16340 batteries. In any case, only unprotected batteries fit in the Emisar. When used with 18350 or 16340, the lamp does not produce 2650 lumens. There are no cells in this size that could deliver the required current of approx. 17 amps. Turbo is only possible with a reasonable 18650 battery.
The Emisar is also available in a chic titanium or brass housing. Due to the poorer heat dissipation of titanium and the significantly higher price, I opted for the simple aluminium version. The High CRI version is available with 3000 and 4000K. I purchased the variant with 3000K.
Next to the Fenix PD36R, which is not exactly huge either, the Emisar D4V2 with its short battery tube looks rather lost, although it emits almost twice as much light. The Emisar has a head diameter of 28mm. It is difficult to use it in the usual adapters because the switch is far forward, even if the size fits well.
Operating the Emisar takes some getting used to. The Anduril UI with its many different functions is controlled entirely via the single switch. The torch has some cool features that are missing in most lamps. In the basic setting, you switch it on with a click, just like a normal torch. If you keep the button pressed, the lamp is in ramping mode. The brightness is increased or decreased continuously. When the desired brightness is reached, the button is released. The brightness is then stored. It could hardly be more comfortable. Clicking the button four times switches to momentary mode. From now on, the lamp only lights up as long as you keep the button pressed. This is very useful for many light painting applications. In addition, the lamp has 5 different strobe modes, such as candle flicker or thunderstorm. However, I have not yet tested these in light painting. For strobe, I prefer to use the Light Painter Ryu's Lighworks Edition because it fits much better into the adapters of Light Painting Paradise and the brightness and frequency of the strobe can be adjusted comfortably.
Furthermore, the Emisar can be adapted to your own needs. For example, it is possible to switch to brightness levels instead of stepless ramping. In addition to the 4 SST-20s, 8 very small RGB LEDs are built into the head of the lamp. You can choose to have these shine in a fixed colour, set a colour change or use them to indicate the battery charge level. In any case, these LEDs only light up when the lamp is switched off.
---
no images were found
Picture 1: Convoy M1 with an undomed Cree XHP 50.2. Brutally bright, but also brutally ugly light.
Picture 2: Led Lenser P5R.2. The CRI here should not be over 80. The colours look very pale overall.
Picture 3: Convoy M3 with 3000K XHP 50.2 LED. The lamp produces a pleasantly warm light, but the colour rendering is not much better than with the P5R.2.
Picture 4: Fenix PD36R. The CRI is obviously a little higher here than with the first 3 lamps.
Picture 5: Fenix FD65. That doesn't look bad. I couldn't find any information about the CRI value, but it should be slightly higher than that of the PD36R. Unfortunately, this lamp is currently not available.
Picture 6: Emisar D4V2 SST-20 CRI 3000K. It almost looks like the evening sun is illuminating the scene.
---
Conclusion
The torch in the first picture is completely useless for illuminating anything. However, many people will not think of tearing the dome off the LED 😉 Older torches like the Led Lenser P5R2 usually reproduce colours very pale. With newer torches, the colour rendering is usually somewhat better, even if the manufacturer does not specify the CRI value. With torches such as the Fenix PD36R or FD65, you can certainly work in light painting and achieve quite natural illumination of the scene. The colours are reproduced better than with the thick Led Lenser X21R or X21R.2. However, this only becomes really beautiful with the high CRI torches. In addition to the D4V2, I have ordered an Emisar D18. I hope that it will arrive in the next few days. Then it will be used to illuminate half the forest or the huge Lost Place. 🙂
Always good light with a high colour rendering value
Sven