LOST PLACES
I photographed my first Lost Place in 1989, the E-Werk in Berlin's Wilhelmstraße, long before the legendary club moved in. One sunny Sunday I went out with my Praktika BX20 and found a way into the building pretty quickly and easily. Back then, there weren't thousands of Urbexers in any major Facebook groups. Probably terms like Lost Place or Urbex didn't even exist yet. At that time, most of the busybodies among the Urbexers were still running around the Christmas tree with a drum or had not yet been born.
My interest was and is primarily in good photos. I didn't want to be the first and the only one to have pictures of the location. I didn't want to add to my collection of abandoned places. I was and am a photographer. If a place doesn't interest me photographically, I don't go there, no matter how exclusive and "new" the location is.
Most Urbexers obviously have a very different plan. They want to complete their collection. And they are the only ones who want the Blue Mauritius among the Lost Places. Why ever. I also don't understand why someone collects beer coasters, crown caps or whatever.
That would be unproblematic in itself, if many of the Urbexer would not act up so and permanently want to reprimand others. My favorite saying: "Do not betray the place so that the vandals do not invade there and destroy everything". How do I have to imagine this now? So there are people who specifically look for lost place photos with location information from photographers, get in their car and drive 800 km just to break something there? You don't really believe that, do you?
It's up to you if you want to tell anyone where you took the photo. But do not try to patronize me or make me any rules! I am an adult and you are not my kindergarten teachers. If I post publicly where I took a photo, it's none of your business.
And please, just be honest. You don't reveal the location publicly for only one reason; to have the pictures exclusively in your collection.
If someone is caught vandalizing or setting fire to a Lost Place, he or she will not be in any important Lost Place group on Facebook. That's the frustrated, drugged-up 16-year-old who lives 500 meters away from the place. He doesn't need your location information! … and the junk thief was there before you anyway and took everything valuable, of course without an Urbexer telling him the location.
Sometimes I can't help suspecting that a fellow photographer destroys interesting subjects after taking his photos so that he's the only one who has the great picture on the sensor. Or to "improve" the motif, parts are removed as in the picture above or other "modifications" are made on site. The vandal would probably have smashed everything and especially not so evenly removed the glass blocks. But this is of course only a conjecture, to my knowledge no one has been caught doing this so far.
But it is even funnier: Locations are exchanged like stamps. If you give me 3 Blue Mauritius, I give you The Penny Black. So swapping addresses is OK, unlike giving them away? The exchange partner might not be secretly a junk thief or vandal?
What's the point? I don't swap "my" locations. After all, they don't belong to me! Sometimes I have the urge to send the busybody 500 kilometers into the desert. But I don't do that, deep inside I'm a nice person 😉
So far I have never needed more than 2 hours of internet research to find out where a certain Lost Place, which interests me photographically, is. The number of locations to be seen on pictures, for which I have not found any information so far, is very manageable.
LEGAL? ILLEGAL? ELIGIBLE?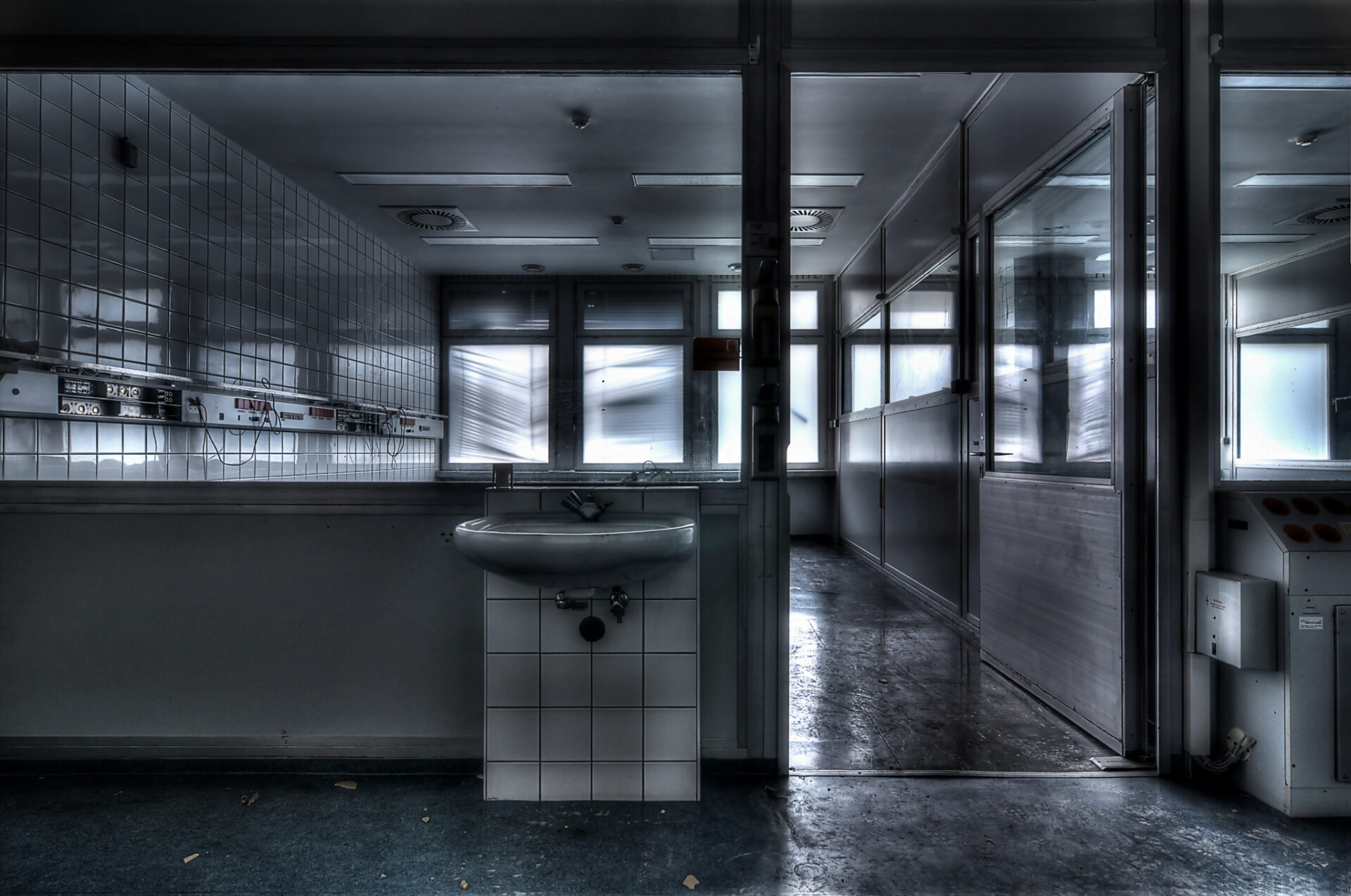 Many Lost Places I have visited with the permission of the owner or manager. Especially when we are on the road at night for light painting. That's just not much fun to drive 300 km by car to the location, unload 150 kg of equipment and then after 10 minutes to be driven away by the law enforcement officers because someone has seen the lights in the dark and denounced us.
A second reason is that we publish our pictures and usually exploit them commercially. Without the owner's consent, this could well cause legal and therefore financial difficulties if the owner should see the pictures.
Some Lost Places are also unexpectedly well secured against trespassing, like the government hospital of the GDR. It should not take longer than 10 minutes for the state authorities to arrive on site after the alarm system installed there has been triggered.
I don't need the thrill of illegal photo tours anymore. There are hardly any locations where a visit is really worthwhile, the owner won't let me in legally and the place isn't secured so that I can get in and out unseen without damaging anything.
FOUR IMPRESSIVE ABANDONED PLACES
I haven't counted how many abandoned places I've visited with my camera so far. I don't keep a list, I don't have a database, I don't mark the pictures on a map. And if after two years I forgot where this or that Lost Place was, then the visit there was not so very important. But some places you never forget:
SANATORIUM BEELITZ
There are also several other vacant former sanatoriums, mostly used by Soviet forces after World War II. Grabowsee, Hohenlychen to name two. But the sanatoriums in Beelitz are still the most impressive lost place I have visited so far. Sure, there are now hundreds of thousands of photos from Beelitz. Almost everyone who can hold a camera the right way around has been there. But that has no influence on my photos, my experiences, my thoughts and feelings I brought back from my numerous visits. I want credit for the good photo, not for discovering a new, unknown Lost Place.
One very special experience was a nighttime visit. In keeping with the ghost stories, a severe thunderstorm rolled in shortly after we arrived. Throughout the night, undefinable sounds drifted through the hallways to our ears. But, we survived it unscathed.
THE CHURCH IN ŻELISZÓW (POLAND)
Actually unimaginable, this Protestant church has been empty and decaying since the end of the Second World War. Until a few years ago, some people founded an association to preserve this unique building. In the meantime, through donations, the roof could be sealed and thus the further decay stopped.
Despite the poor condition, I was immediately impressed by the unique architecture. From the outside, the building is rather inconspicuous.
THE CHURCH IN GOSZCS (POLAND)
Another abandoned Lutheran church in Poland. The structural condition is much better than in the church in Żeliszów, in contrast to the neighboring castle. There almost only the facade is left.
KAUFHAUS GÖRLITZ
The Görlitz department store is not actually a lost place. The department store is empty at the moment, but in the not too distant future it will open its doors to customers again as such. Until then, the building will be used for various events such as fashion shows and the like… or made available to the Light Painters at night. You can find the article about our department store visit here.
This impressive building is the only well-preserved Art Nouveau department store in Europe.
In addition, I visited some very impressive Lost Places without having taken any really good photos there, such as object 5001 (alternative command post of the National Defense Council of the GDR). The son of the former commander of the bunker guided us through the facility; you couldn't ask for a better companion. I would not like to miss such experiences either, but these are two different things for me. Good photos or interesting history. Both at the same time you have in rare cases, but that is then almost a lottery win.
WHY DO I DO ALL THIS TO MYSELF?
As you can see many Lost Places serve us first of all as a backdrop for our Light Painting and Light Art images. Finding and exploring abandoned places is of course also exciting and interesting. In almost all locations, however, we usually immediately come up with several ideas for our light paintings. Many locations we can not or do not want to visit at night for various reasons.
The effort to find and visit the Lost Places is rather small compared to the effort for our Light Art and Light Painting pictures.
Mostly I kill two birds with one stone. Beautiful pictures of the location in daylight and later beautiful Light Paintings in the impressive Lost Place.
Surely there are also many interesting places that are freely, legally and safely accessible but somehow the ramshackle charm of many abandoned buildings still appeals to me.
Even though large parts of the Urbex scene are getting more and more on my nerves, I haven't let them spoil my photography of abandoned places. But the intensive visit and exchange in the relevant Facebook groups they have already spoiled me. The tone there is usually anything but friendly. Either one whines because the other does not tell him where the location is, the other reprimands people who behave "wrong", ie not according to the divine "Urbexer code" and the third makes snide remarks about the poor quality of the images.
In this sense, always good light and always a safe stand in the rocked Lost Place.
Sven